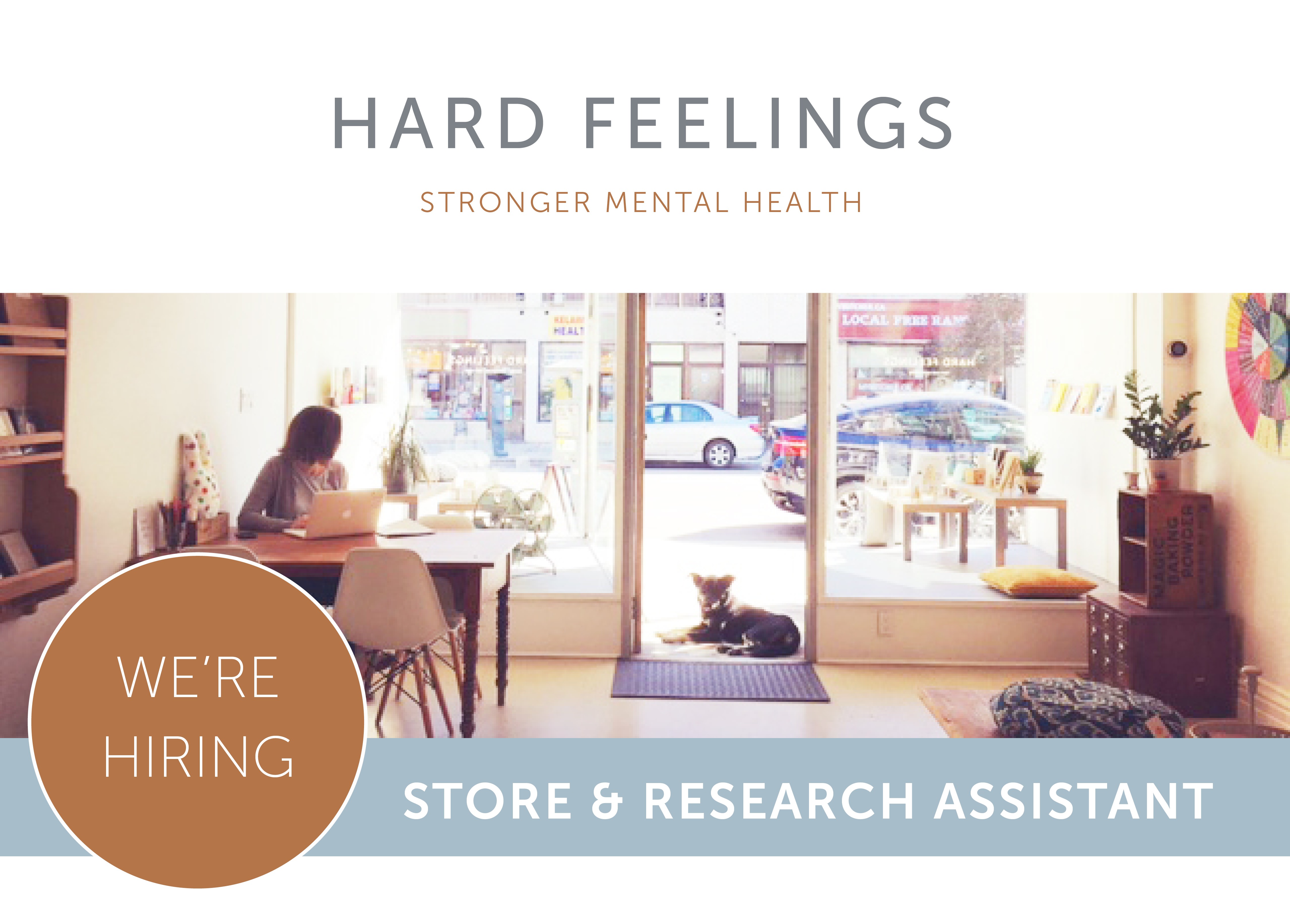 Titles: Store & Research Assistant
Organization: Hard Feelings Mental Health
Job Type: Summer contract
Duration: 8-week contract from June 25th-August 21st, 2018
Wage: $14.00 per hour / 30 hours per week
Application Deadline: Friday May 25th, 2018 at 12:00pm.
Eligibility
This position is funded by Service Canada through the Canada Summer Jobs Program. Candidates must meet the following requirements:
Be between 18 and 30 years of age at the start of the employment;
Have been registered as full-time students in the 2017-2018 academic year and intend to return to school on a full-time basis in the next academic year;
Be Canadian citizens, permanent residents or persons to whom refugee protection has been conferred under the Immigration and Refugee Protection Act;
Be legally entitled to work in Canada in accordance with relevant provincial/territorial legislation and regulations.
Organization
Hard Feelings Mental Health is a non-profit social enterprise, opened in September 2017. Our mission is to reduce barriers and increase access to mental health supports through an innovative community of practice. We facilitate the delivery of low-cost counselling and operate a storefront that sells a curated selection of books and resources focused on building stronger mental health.
Position Overview
This position is a unique opportunity for a student to gain experience working in a non-profit social enterprise. The role is focused on two key areas: 1) supporting the daily operations of the storefront and 2) researching opportunities for community engagement through art.
The ideal candidate will have experience working in retail and customer service. They will also be interested in exploring the intersections of mental health through a creative lens.
Store Front:
Assist with daily operations of the storefront
Support counsellors and clients coming in for counselling
Provide a welcoming space for people seeking support
Liaise with community members and others interested in our work
Maintain displays and general appearance of store
Light daily cleaning
Weekend and evening hours required
Other duties as assigned
Planning and Engagement:
Research the initial planning stages of a community-informed art project related to mental health
Plan an information session in the community to draw participation from individuals throughout our catchment area
Qualifications and Experience
Must meet eligibility requirements as stated above
Experience working in a retail environment
Strong verbal and written communication skills
Experience using social media accounts (Instagram, Facebook, Twitter)
Cash handling experience an asset
Understanding of the barriers to accessing mental health supports
Ability to tactfully and calmly deal with people who may be in crisis
A flexible and curious approach to work, with an interest in social innovation
Demonstrated interest in art and community arts
Commitment to anti-oppressive practice
Experience working in a community service and/or mental health organization an asset
General First Aid, Mental Health First Aid and CPR an asset
A sense of humour, flexibility and confidentiality are a must!
*Note: This is not a counselling position*
As an employer, Hard Feelings Mental Health is committed to building an organization that reflects the diversity of our clients and the communities we serve. We encourage applicants from equity seeking communities to apply. Requests for accommodation due to disability can be made at any stage in the hiring process. As a condition of employment, a criminal record check will be required. Please note that we do not have an accessible washroom.
Application
Please include a brief cover letter, highlighting your interest in exploring the intersections of mental health through a creative community project and what you hope to gain from this employment opportunity.
Please submit your cover letter and resume to info@hardfeelings.org with job title in the subject line.
Download a PDF version of this posting here.
While we appreciate all interest in this position, only candidates selected for an interview will be contacted. No phone calls, please.
Meriya Gmeiner-McPherson
Storefront
Meriya is the Store Manager and will likely be the first person to greet you when you arrive at the store. Meriya is responsible for managing volunteers, sourcing products and supporting clients and counsellors in their practice. Meriya studied at Quest University with a focus on sociology, art and education and examined the intersectional nature of mental health in a cumulative art project exploring student experiences of mental health at university. She has an interdisciplinary background working as a residential counsellor, outdoor educator, thrift shop manager, bus driver, photographer and artist. She is hoping to pursue graduate studies in Social work and continue building her skills as a community organizer and artist.
You can reach Meriya at info@hardfeelings.org
"Hard Feelings is a space to seek support for the unspoken challenges that can influence ourselves, our families and our community. I am excited to work as a part of a social enterprise that is actively trying to make a more accessible space for talking, healing and community wellness."
Kate Scowen
Counselling
Kate is the Founder and President of Hard Feelings.  She has been working in the non-profit and community services sector for over 30 years. She has worked as a counsellor, program manager, writer and consultant for a variety of community-based organizations in Toronto.  Kate completed her MSW at the University of Toronto in 2015 and has worked most recently as a counsellor at George Brown College and Ryerson University.
You can reach Kate at kate@hardfeelings.org
"Hard Feelings is the culmination of three years of researching, talking about and imagining a little space that might make big change in the landscape of mental health service delivery in Toronto. The response to this project has been unbelievably powerful and positive. I feel honoured to be able to bring it to life, with the support of many, many wonderful people who have donated time, ideas, energy and resources to get it off the ground."
Board of Directors
Claire Angus, CPA, CA, MSc (Treasurer) – Director of Finance, Sheena's Place 
Maureen Carter-Whitney, LLB, LLM (Secretary) – Vice-Chair, Environmental Review Tribunal

Arij Elmi, MSW, RSW – PhD Candidate, University of Toronto
Neil Price, MA – Director Student Life, Humber College
Katherine Roy – Graduate Student, Ryerson University
Kate Scowen, MSc, MSW, RSW (President) – Counsellor, Private Practice 
Kaleigh Wisman – Community Relations Coordinator, West Neighbourhood House
Advisors
Robert Barnard – CEO Decode
Dr. Lisa Berger, C. Psych. – Clinical Psychologist, Private Practice
Maureen Fair – Executive Director, West Neighbourhood House
Janis Gillan – Owner, Cafe sur Mer
Cathy Mallove – Communications and Knowledge Exchange professional
Solomon McKenzie – Juris Doctor Candidate, University of Toronto Faculty of Law
Dr. Micheal Shier, PhD, MSW, RSW – Assistant Professor, U of T, FIFSW
Dr. Sarah Thompson, C. Psych. – Clinical Psychologist, Ryerson University & Private Practice